Vet Costs For A Sick Dog [Real Life Bills]
If you've read about us, you know that we have been proud owners of a pair of Boston Terriers, Bridgette and Ryder.
Recently we went through a health crisis with Bridgette that ended with euthanasia. In just four short weeks we went from exam to the rainbow bridge with her.
As a tribute to her, we wanted to transparently share what the veterinary costs were in order that other pet owners would see the reality of vet costs, rather than be scared of "what might be".
Consider this a case study for the vet costs of a sick dog from a real-life experience.
What Was Wrong With Bridgette
On November 1st, we decided to contact the vet about a cough that Bridgette had developed and her breathing was a bit more rapid than usual, even while resting.
At first, the vet thought it was simply congestion and to give it a few weeks to clear up. After a week and a half of waiting for the congestion to clear, we went back to the vet.
This was the first time we began to feel something significant was transpiring. The next two and a half weeks had us at the vet five more times with several phone consultations in between.
Little did we know that Thanksgiving would be the last holiday we would celebrate with her.
Bridgette suffered from a quick onset congestive heart failure that ended with her showing signs of hypoxia and euthanasia was the best course of action.
December 2nd marked Bridgette's passing. One month and a day from when we started this journey.
We were devasted but clung to memories and our faith to get us through.
How much did the vet cost for the diagnosis and treatment?
The exams and medical treatment for our dog with congestive heart failure totaled $877.13. This was over a 4 week period. This included exams, multiple Xrays, medications, and in-office treatments.
The cremation and ancillary charges were $214.00. This included the private cremation, engraved nameplate for the urn, and a paw print casting.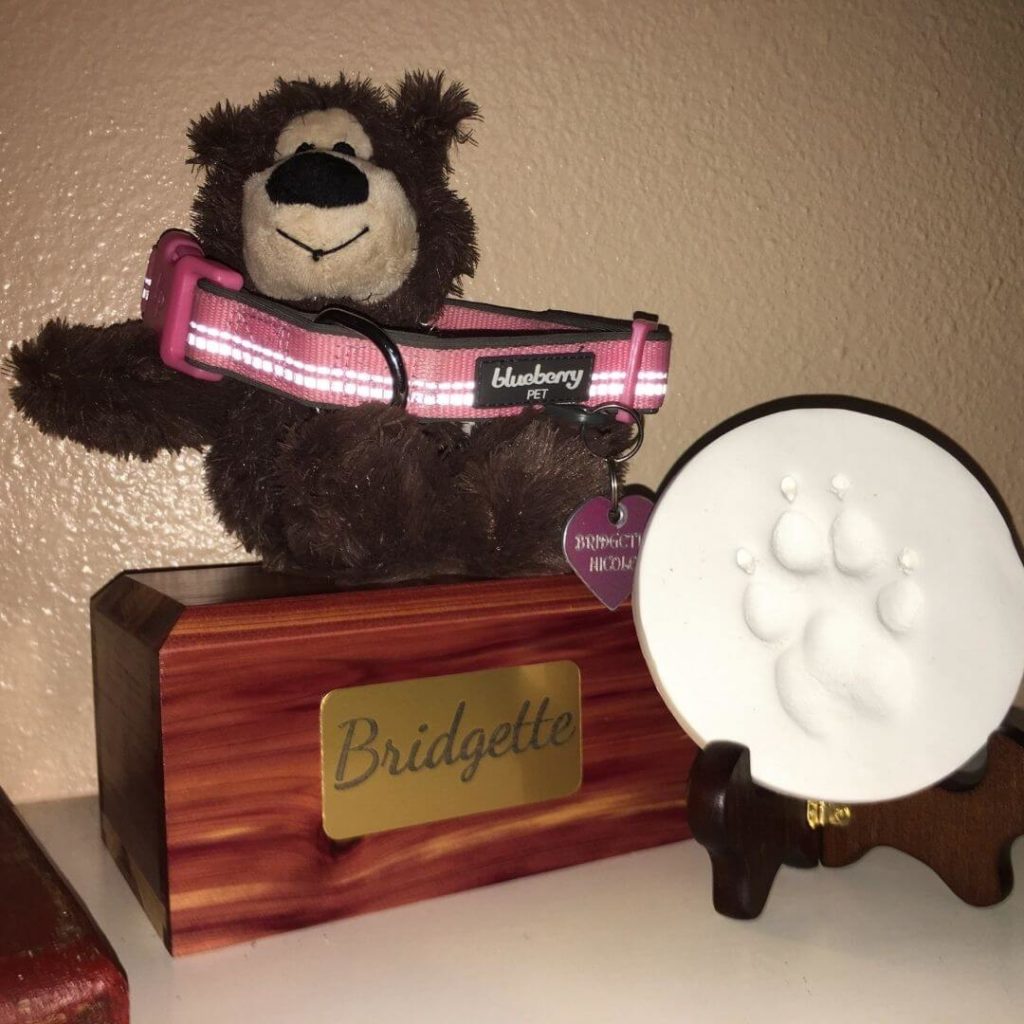 How expensive are medications for dogs?
That's a pretty broad question, however, except for exotic medications, you might be surprised how inexpensive medications really are for pets.
Common pill prescriptions, like Prednisone, Furosemide, Clavamox, and Enalapril ranged from $0.25-$0.66 per dose. Simparica Trio was $26.00 per month.
| Medication | Price / Dose | Price / 28 Days |
| --- | --- | --- |
| Furosemide 20mg | $00.25 | $20.40 |
| Prednisone 5mg | $00.41 | $20.50 |
| Clavamox Chewable 125mg | $00.66 | $55.36 |
| Enalapril maleate 5mg | $00.66 | $55.36 |
| Dexamethasone injection 2mg/mL | $22.00 | n/a – In office use |
| Simparica Trio, 22-44lbs, blue | $26.00 | $26.00 – Monthly |
Medications per dose prices for our Boston Terrier's treatment
How expensive are vet exams, tests, and Xrays for dogs?
Certainly, the costs will vary from vet to vet. Exams and consultations ranged from $35.00 to $58.00. X-rays (radiographs) were $100 for the first view and $25.00 for each additional view. Other testing costs between $20.00 and $82.00 per test, depending on the type of test being done.
What we are sharing here is what our vet costs were. We've also verified that these costs are fairly in line with other clinics in our area.
| Description | Price |
| --- | --- |
| Initial Exam/Consult | $58.00 |
| Second Exam/Consult | $58.00 |
| Third Exam/Recheck | $35.00 |
| Fourth Exam/Recheck | $35.00 |
| Fifth Exam/Recheck | $35.00 |
| Final Visit | No Charge |
| IDEXX Heartwork Snap Test | $29.00 |
| Fecal Examination, Flotation | $20.00 |
| Complete Blood Count (CBC) | $55.00 |
| Biochemical Profile, General | $82.00 |
| Radiograph, Primary View | $100.00 |
| Radiograph, Additional View | $25.00 |
| Nail Trim | $10.00 |
| Euthanasia | No Charge |
Veterinary exam, tests, and Xray costs
How much does a dog echocardiogram cost?
During our fifth visit with the vet, we had decided to move forward with an echocardiogram and consult with a veterinary cardiologist.
The purpose was to determine the specific nature of heart failure and whether it could be managed for a period of time with medications. We never made it that far.
However, I did call the very few facilities that perform this type of testing in order to get a sense of the cost so that we could share it here.
On average, a canine/feline echocardiogram will cost $245 to $375 for the procedure itself. An additional exam fee may be charged depending on the facility and relationship with your primary veterinarian. Finally, a consultation with a veterinary cardiologist will cost $100-$175. Your total costs may run $425-$600 for all components of a dog echocardiogram.
I found some great information for the knowledge seeker types out there. Dr. Blount has links to many resources on their cardiology page. (See the additional resources below)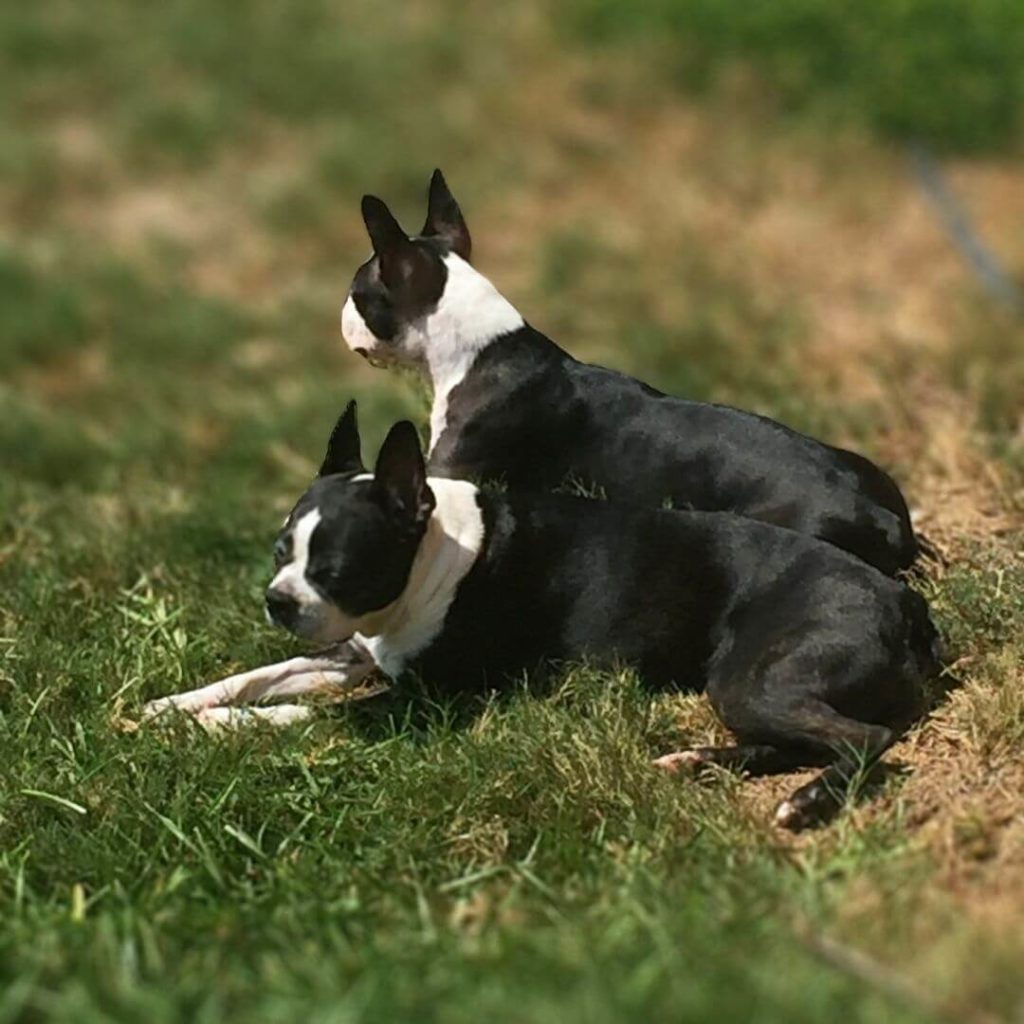 What caused congestive heart failure in our dog?
The truth is, we'll never know for sure. Here is what we do know:
Bridgette was a healthy weight (23.8 lbs) proportionate to her height according to our vet.
She played and exercised daily with us and especially her brother, Ryder.
Bridgette ate Natural Balance Salmon and Sweet Potato Limited Ingredient Diet dog food for the last few years.
We do not feed table scraps to our Boston's
A treat for Bridgette and Ryder is a baby carrot. They both loved them.
Was she predisposed to have heart failure due to genetics? Not that we know of.
It's best just to move through the grief process and enjoy the memories.
What are the symptoms of a dog with congestive heart failure?
Remember, we are pet owners, not veterinarians. If you are concered about your dog, you should take them to the vet to be examined by someone who is qualified to do so.
From what our veterinarian told us along with what we have researched, hear are some potential signs of heart conditions:
Quick fatigue while playing or exercising
Development of a cough. (Like they are trying to hack something up)
Excessive panting without the presence of heat or exercise.
Labored breathing (Open mouth breathing that is not panting)
High, rapid rate of breathing, even while resting (above 37 RPM)
Refusal to play or go for a walk
Becomes easily tired on walks or during play
Blue-tinged gums or nails (This is indicates hypoxia and needs emergency attention ASAP)
Summary
One of the things we do here is share out personal experiences and opinions with you, our loyal readers. While the loss of a family pet is difficult, sharing some of the process and information we gained along the way is a way to honor our Boston Terrier, Bridgette.
In our case, we were surprised by how affordable some portions of our dog's treatment actually were. At the same time, the bills added up quickly over a short period of time. Above is a real case of a Boston Terrier who experienced advanced, quick onset congestive heart failure.
We hope that by sharing our experience fewer pet owners will be apprehensive to seek medical care for their pets due to costs alone.
Related Questions
How much does a vet cost? According to the 2021-2022 APPA National Pet Owners Survey, surgical visits for dogs average $458 while cats average $201. Routine veterinary visits average $242 for dogs and $178 for cats.
Where can I get vet prescriptions filled? If your vet prescribes a medication for your pet that they do not have on hand, you might be surprised to learn that many regular pharmacies will fill veterinary prescriptions, so long as that same drug is also prescribed to humans. It is best to call and check first. Some of the big chains that fill or some veterinary prescriptions include:
Additional Resources